Welcome
Welcome to The Learning Academy at USF!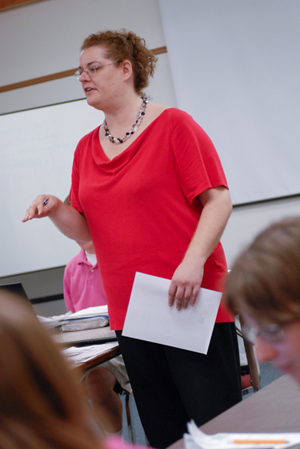 Dear Students and Families,
We are delighted that you are interested in the Learning Academy and Learning Academy Employment Services.  I have been instructing the class at the Learning Academy since the fall of 2009.  I have the pleasure of getting to know the students extremely well as they discover and share things about themselves throughout the year.  It is always exciting to watch the students grow in confidence and self-awareness during their time here.
In addition to the personal growth that happens in the students, they also develop employability skills that help them deal with issues that arise in employment and life in general.  Some of these areas that that we cover in our program include problem-solving, conflict resolution, communication, stress management, and interviewing skills to name just a few.   The students learn about these topics in a variety of ways from class discussion, to group activities, to practicing them with their USF student mentor out in the community.
If you are dedicated, self-motivated, and ready to learn how to be successful in a career that you are passionate about, we would love to help you work towards that! Even if you are unsure of what you want your career path to be, we are here to help you figure that out.  Best of luck in your endeavors and we hope to work with you soon!
Sincerely,

Megan Fitzpatrick, Instructor
About TLA
The Learning Academy at the University of South Florida is a customized transition program that assists in preparing young adults diagnosed with Autism Spectrum Disorder for employment. The Learning Academy provides services, supports and experiential opportunities that develop and enhance each student's independence in meeting personal career goals. Our students engage in self-discovery and career exploration through real-life opportunities such as applied learning experiences with local employers and peer mentoring which allows generalization of learned skills.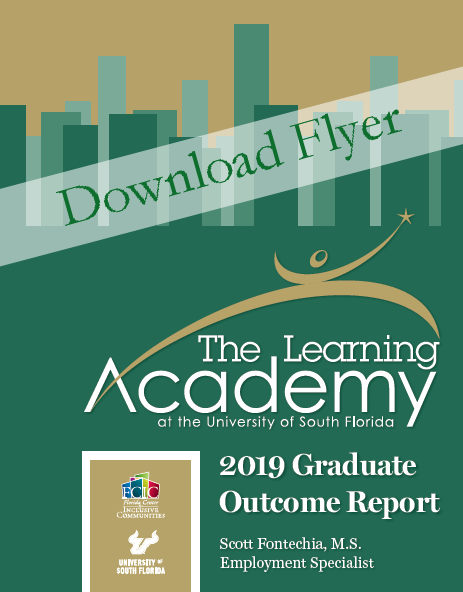 Program Goals
To provide a rich experience that enables students to enhance and advance their career preparation skills.
To provide an inclusive, authentic experience for students with disabilities with age appropriate peers that provides classroom based and experiential learning.
To increase personal knowledge and technical skills of each participant that leads to successful adult experiences.
To improve the ability of participants to find and maintain employment.
To provide experiential opportunities that lead to successful career and employment outcomes.
To improve the ability of participants to gain social success.
Outcomes for Students
Individualized knowledge of how they learn and awareness of and experience with techniques that augment their individual learning style.
Specific knowledge of their strengths and abilities.
Specific strategies to set and achieve goals for the future.
An authentic college experience with access to USF students, professionals and activities.
An electronic portfolio describing who they are, their strengths and their goals.
A newly designed resume, job and/or college seeking skills and a clearly developed path for the future.
A certificate of completion from the Learning Academy at USF.
Curriculum
Areas Covered in the Curriculum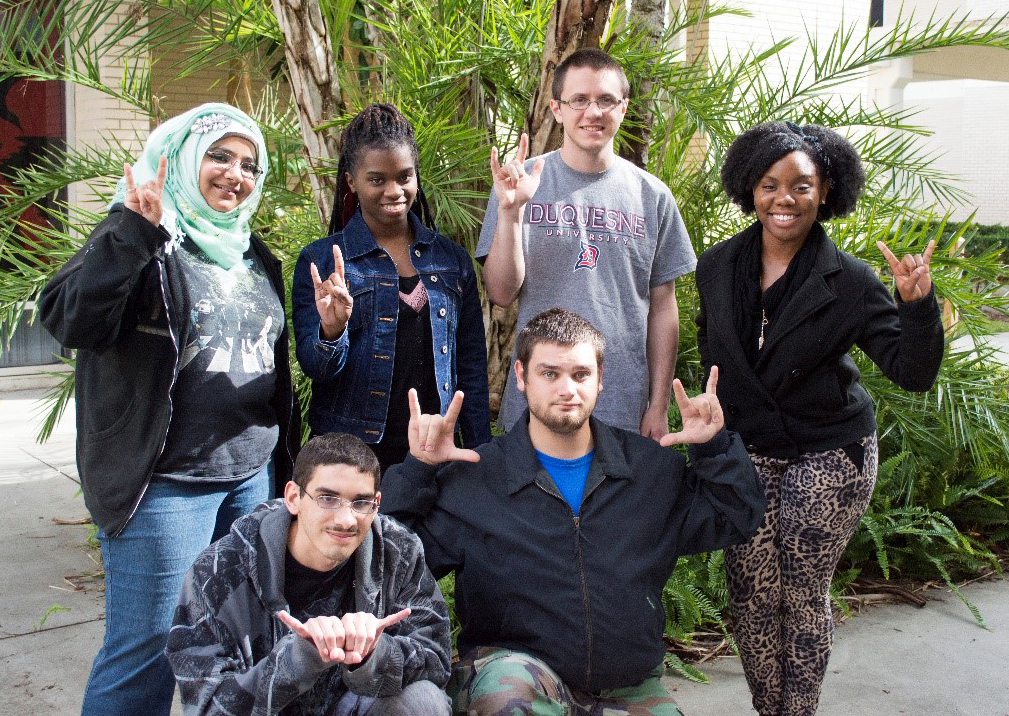 Understanding yourself, your resources and your rights.
Self advocacy.
Building self management skills related to employment.
Making and achieving personal goals.
Social skills in the "adult world."
Making and keeping friends.
Understanding the value of work, expectations and career development.
Job searching, matching and associated skills to obtain and maintain meaningful employment.
Developing an understanding of benefits, paycheck deductions and options.
Admissions
Application deadline for the 2021-2022 school year has been extended to Feb 1st, 2021!
Important Dates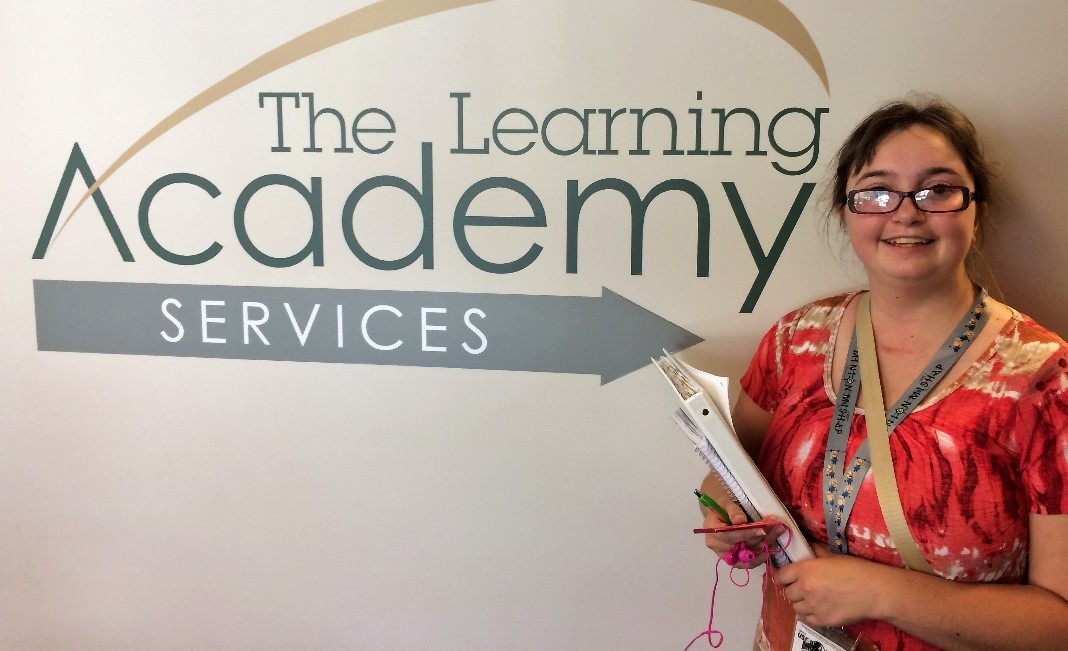 Applications are accepted on a continuous basis throughout the year.
January-February 2021 - Applications reviewed, for the Fall 2021-22 academic year
Mid-January 2021 - Student interviews commence
April 2021 - Notification of acceptance into the Learning Academy. Students must contact the Learning Academy coordinator to indicate commitment to attending the program within 30 days of receiving an acceptance letter.
May 2021 - Invoicing for program tuition sent
July 15, 2021 - Tuition payment due
Tuition
The Learning Academy at USF is an approved Vocational Rehabilitation Vendor for the State of Florida. Individuals working with a Vocational Rehabilitation counselor can request the Learning Academy program be included in their Individualized Plan for Employment (IPE).
Accepted payment methods: Gardiner scholarship, Able United, Jan La Belle Scholarship and Florida Prepaid. Private pay is also accepted.
Tuition for the Learning Academy for the 2021-2022 school year is $9,900.00.
Refund Policy
Students are entitled to a full refund if they withdraw from the program by the fifth day of the start of the program. Students are entitled to a 25% refund if they withdraw after the fifth day of the start of the program but prior to the first day of the fourth week of the program.
Individuals must provide their Individualized Plan for Employment, authorizing payment from Vocational Rehabilitation or a signed commitment for private payment upon agreement to attend the program.
Vocational Rehabilitation (VR)
The Learning Academy at USF is an approved vendor of the Florida Department of Vocational Rehabilitation and they may fund tuition for participation in the program.  We offer the following suggestions to assist you in this process:
The sooner you are involved with VR the better. If you are still in school and are considering the Learning Academy as a post school option, make sure a VR counselor is invited to your Transitional IEP (TIEP) meeting.
Ask to include attending the Learning Academy at USF as a goal in your TIEP.
If you have already graduated from high school, apply for VR services immediately. The VR process takes time and has many steps. You do not want your opportunity to participate in the Learning Academy to be held up because you began the VR process too late.
When you meet with your VR counselor, be prepared to describe to him/her what the Learning Academy is and why you believe it is needed for you to move forward with your employment goals.
Provide your VR Counselor with information about the Learning Academy if he or she is not familiar with the program. Ask your counselor if the two of you can visit the program together to observe and meet with staff and students.
Make sure that the Learning Academy is written into your Individual Plan for Employment. That is the only way to be certain that VR will fund your participation in the Learning Academy.
Ask about and discuss your possible financial participation in paying for a percentage of Learning Academy's tuition. VR determines the financial participation of a person based on their household income and prior year's tax return.
Application
Please upload your Documentation of a qualifying diagnosis of an Autism Spectrum Disorder, and complete and download the *Parent/Guardian Agreement and Parent/Guardian Agreement *Recommendation Letter forms. Documentation of an Autism Spectrum Disorder can include a school record, a psychological evaluation, or a letter from a healthcare professional that states that the individual has autism. Please upload completed forms prior to submitting the application. Applications are considered incomplete without these documents. Forms can also be emailed to mmfitzpa@usf.edu
Campus Life
USF Tampa campus is rich with activities, events and supports for all students. From the arts, to sports, recreation facilities, clubs and a state of the art student center, USF provides its students many resources to enhance their education. The campus has its own transportation system that allows students to travel from one end of the campus to the other, as well as to the local mall nearby. There are many options available for dining on campus as well. The Learning Academy students are provided a courtesy ID that gives them access to many of the same opportunities as students attending USF. Check USF's Campus Life page for specific information on the great resources here at USF.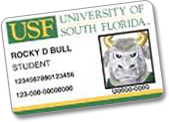 Courtesy USF ID
Each Learning Academy student is provided with a courtesy USF ID. It can be used for the bus system at USF, activities, and access to library facilities.
Housing
USF offers connections to a variety of off campus shared housing options where Learning Academy students can be a roommate with USF students and move toward more independent living.  The Learning Academy does not directly arrange housing.  This is done by the student and his/her family directly with the apartment management. The link to off campus housing is: http://www.myidealplace.com/accounts/usftmp/
Transportation
The Learning Academy does not provide transportation to and from the program.  Students may take the bus, drive or receive a ride from family members.  USF has a bus system called the Bull Runner that students may use to go all around the campus.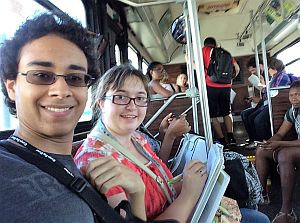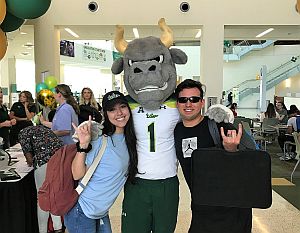 Success Stories
FAQ
Who can apply to The Learning Academy?
Our program is designed for individuals between the ages of 18-25 with a diagnosis of an Autism Spectrum Disorder. Individuals must be independent in personal self-care and have a functional communication system.
Is this program open to students with standard or special high school diplomas?
Learning Academy students are required to have completed high school, and we accept both standard and special diplomas.
How does the mentoring component of your program work?
All Learning Academy students are assigned a USF student mentor that meets with them four hours per week. The mentoring time is structured with activities that correspond with classwork, but there is also time to relax and get to know each other.
How often does The Learning Academy class meet?
During the first fifteen weeks, the class meets 12 hours per week, or four 3-hour classes. The second fifteen weeks students meet for class for 6 hours per week, or two 3-hour classes. Mentoring time adds an additional 4 hours per week that the students must also spend on campus.
How many hours a week do students spend in their applied learning experience?
Students begin their applied learning experience with a local employer at the beginning of January and spend four hours per week for fifteen weeks in this applied experience.
Do students have to attend class during the semester that they do their applied learning experience?
Yes, students still must attend class while they are involved in their applied learning experience.
What kind of work do students complete while in class?
Our curriculum includes a variety of topics related to gaining and maintaining successful employment. Classwork includes group discussion, self-assessments, role-playing, career research, teambuilding activities, and many opportunities for self-reflection. This discovery process is meant to identify personal traits, likes/dislikes, values, etc. that are important in finding a job or career that is a good fit for the individual.
Does The Learning Academy class count towards USF college credits?
No, since our students do not go through the same application process as USF students or pay university rate for tuition, the Learning Academy class does not count towards college credit.
Can students be enrolled in college classes while attending The Learning Academy?
Students can, and have, taken college classes while enrolled at The Learning Academy. However, we require that all enrolled students make The Learning Academy their first priority and complete all required components of the program. If a student wishes to audit a USF class, we recommend they wait until the second half of the program and may be able to count it towards part of their applied learning experience requirements.
How do I apply to the Learning Academy?
The Learning Academy application and instructions for completing the application are available on line at this website. Applications are accepted year round. Interviews take place after March for the class beginning in August of that year. Learning Academy Student Application and Instructions
What is the tuition for the Learning Academy?
The tuition is $9,900. Tuition can be funded through the Division of Vocational Rehabilitation or paid privately. We do accept Florida Prepaid, Gardiner scholarship, Able United, and the Jan La Belle Scholarship.
Is there a residential component to the Learning Academy?
At the present time there is not a residential component to the program. Individuals can, however, reside in off campus apartments which is arranged privately. The Learning Academy does not provide any support or supervision to individuals residing in off campus housing.