USF Tampa campus is rich with activities, events and supports for all students. From the arts, to sports, recreation facilities, clubs and a state of the art student center, USF provides its students many resources to enhance their education. The campus has its own transportation system that allows students to travel from one end of the campus to the other, as well as to the local mall nearby. There are many options available for dining on campus as well. The Learning Academy students are provided a courtesy ID that gives them access to many of the same opportunities as students attending USF. Check USF's Campus Life page for specific information on the great resources here at USF.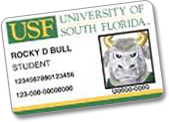 Courtesy USF ID
Each Learning Academy student is provided with a courtesy USF ID. It can be used for the bus system at USF, activities, and access to library facilities.
Housing
USF offers connections to a variety of off campus shared housing options where Learning Academy students can be a roommate with USF students and move toward more independent living.  The Learning Academy does not directly arrange housing.  This is done by the student and his/her family directly with the apartment management. The link to off campus housing is: http://www.myidealplace.com/accounts/usftmp/
Transportation
The Learning Academy does not provide transportation to and from the program.  Students may take the bus, drive or receive a ride from family members.  USF has a bus system called the Bull Runner that students may use to go all around the campus.
Download a Brochure
Learning Academy
Phone: 813-974-2996
Employment Services
Phone: 813-974-2840